Contact
Bengal Creek Ridge Student Housing
2100 S 2nd Ave
Pocatello,
ID
83201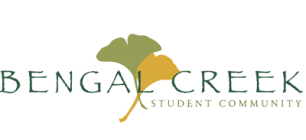 Resident Reviews
Great value property
|

Recommended: Yes
It's really great|Recommended: YesIt's a clean place and it's a really neat place for a university student.
Good clean place to rent at.|Recommended: YesGreat place to live to get accommodated to the area. Meet a lot of new people and good for students.
The property is amazing, the apartments are nice. The hot tub and pool are very nice as well.|Recommended: NoI would say I loved the apartment, the staff, and accommodations, however, whatever they use to select roommates doesn't work very well.
Great apartment for college students|Recommended: YesYou feel safe and comfortable in a place that is easily affordable and close to campus
I enjoy bengal creek|Recommended: YesThey work well with me and it's a great price for how nice the apartments are, expecially since it comes with a pool and hot tub. I wish the hot tub stayed open later though because it's always locked up when I go. Also the last few times I went, the hot tub wasn't very hot.
Great place to live|Recommended: YesIt's nice and convenient to live here
Spacious Chill Housing|Recommended: YesI enjoy living at this apt complex. I am close to the laundry mat which is not kept up as well as it should be however, it's free so I can't complain. Roommates makes or breaks the housing situation experience. Private room, ,cheaply priced, and spacious living area.
Wonderful|Recommended: YesEveryone at Bengal Creek is very friendly and willing to help. It is nice to have such a nice staff, especially since this is our home away from home. My dad felt very comfortable leaving his daughter to live at Bengal Creek. Anytime there was a minor problem, the macitence was there by the next day to help with our needs. Overall, I would not want to live anywhere else I love it here
This is a very good property to stay at.|Recommended: Yesi would tell them this is a very good place.
Great care and great home vibe|Recommended: YesI really enjoy the close-knit community and the ability to stay in the same apartment and the same room after renewal. It is clean and the maintenance men are very caring and quick to help.
Great place. Safe environment.|Recommended: YesIt's a good place to live.
The rooms are nice for the price and spacious|Recommended: YesI really enjoy living here because I feel like there is a lot of space for the amount that I pay to live here. Everyone gets their own room, and it is really nice to have your own personal space. The apartments are a little outdated appliance wise and could use a few upgrades, but I have no complaints about it. I also really feel that the apartments are in a quiet area so it makes it easy to sleep at night because you don't hear the rush of traffic. There is a lot of grassy space so it is also nice to be outside. The management are friendly and always willing to help. I have loved my time living here and look forward to living more semesters here.
It's good for the price|Recommended: YesSome issues with older used buildings but it's still good. Also some noisy neighbors sometimes on school nights, but staff handles it well.
Alright|Recommended: YesIt's a really roomie place and has lots of space. It's a nice community to live in. The walls are thin and maintaince takes forever to get to you, but the location is very nice.
The views and opinions expressed herein are solely those of the original authors and other contributors. These views do not reflect the views of "Bengal Creek Ridge Student Housing", its owners, managers, agents, employees or content providers. No representation or warranty, express or implied, is made or given by "Bengal Creek Ridge Student Housing", its owners, managers, agents, employees or content providers regarding safety, accuracy, completeness or suitability of the information or material expressed herein for any particular purpose