Contact
Bengal Creek Ridge Student Housing
2100 S 2nd Ave
Pocatello,
ID
83201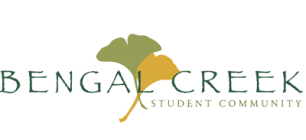 Resident Reviews
Nice place to live
|

Recommended: Yes
Very convenient and accommodating|Recommended: YesThe apartments are nice and modernized. The staff is friendly and the maintenance requests get done right away. It's a convenient and comfortable home away from home.
Great place to live|Recommended: YesSometimes you have problems but that's mostly because there's a lot of people in a small space
Love living here|Recommended: YesSo far I have loved living at Bengal Creek It is well kept and a great place to love at an amazing price Managment is amazing and willing to do everything they can to make sure I get the most out of living here I am excited to continue living here for the remainder of my time at ISU
Nice property, love the apartments
|Recommended: Yes
I really enjoyed living here. The maintenance requests were fulfilled within 48 hours and they called to make sure they were completed. I was on the third floor so I didn't have a problem with noise but my friends had issues who were on the first and third floor. Really enjoyed my time here
Danielle, Thank you for your feedback and wonderful review! We appreciate you taking the time to let us know how your Bengal Creek Experience was! We wish you the very best in your future endeavors! -LaTaya Nicholls Bengal Creek Ridge General Manager "Family First, Grab an oar, Connection, Passion, Carpe Diem" 208-478-4222 Office Phone 208-4784224 Office Fax latayan@tritoninv.com
Good Deal
|Recommended: Yes
The apartment is the great deal for the price.
Andrew, Thank you for your review, we appreciate you taking time to leave us feedback. We wish you the best! -Bengal Creek management.
Great|Recommended: YesGreat way to make new friends. Game room is fun. Apartment layout is good. Lots of parking. Good laundry site
Pretty chill place, except for the other five people|Recommended: YesMy favorite part is the individual rooms so I can be alone with my thoughts
Not what was expected.|Recommended: NoPlaced in a room with freshman as a junior in college. Clean checks were never enforced as our place was always in terrible condition. Lock to primary door was broken for a whole week before getting fixed. Shower head was falling off. Upon move in, bedroom was dusty and dirty. Rules were never enforced as some of the roommates had other friends spending the night more than 3X a week this resulted in NO privacy at all. Personally, I thought other people were exaggerating when they said walls were paper thin, but it is true. It is especially worse when roommates are up until 3 am with friends. Other issues were also addressed. I ended up only staying at apartment 1-2 days a week when I had class, and driving home every week. Moved out 2 months before my 5 month contract was up. Experience could have been better with different roommates.
Really feels like home|Recommended: YesWe have had a lot of problems in our apartment with some of our roommates causing drama and dragging us into it, but management has been patient with us and helping us figure out where our problems lie and what we need to do to fix things.
It's my home, but thin walls suck lol|Recommended: YesMost people that see the price of rent thinks it is a little high, but you get so much of out it And management is always so willing to help It's very comforting, and it feels like home I would recommend staying here instead of the dorms for sure That's why I recommended my friend And she's so excited to live at Bengal too
Good|Recommended: YesGreat place to live
Really great place to live.|Recommended: YesIt is very economical place to live. It is close to campus and there is a bus that picks up here. They work with you with different payment plans for every budget.
Good college apartment|Recommended: YesIt's cheap and having all utilities in the rent is nice.
Great place to stay at, worth the price.|Recommended: YesI love it, there are a bit of things that tend to break and it takes awhile to fix it sometimes, the landscape could be better there is often some trash but other then that there are fun friendly people and I have loved it here and I want to continue to stay here throughout college.
The views and opinions expressed herein are solely those of the original authors and other contributors. These views do not reflect the views of Bengal Creek Ridge Student Housing, its owners, managers, agents, employees or content providers. No representation or warranty, express or implied, is made or given by Bengal Creek Ridge Student Housing, its owners, managers, agents, employees or content providers regarding safety, accuracy, completeness or suitability of the information or material expressed herein for any particular purpose