Contact
Bengal Creek Ridge Student Housing
2100 S 2nd Ave
Pocatello,
ID
83201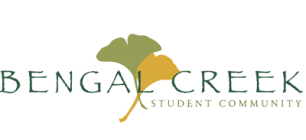 Resident Reviews
Bengal Creek is affordable and clean. It's a great place to live
|

Recommended: Yes
Kinley is awesome|Recommended: YesWhile I've never visited Bengal Creek, my son moved from Texas to another complex that was inhabitable. Bengal Creek worked with us to get my son housing immediately. Thank you Bengal Creek and thank you Kinley
High quality for Low prices|Recommended: Yessufficiently suitable for such activities as, swimming, working out, watching movies, sleeping, and other mundane living adventures.
Appliances could be better.|Recommended: YesIn the last 2 semesters I've been living here, I moved out of one apartment due to the above apartment flooding. The next apartment had a whole big clog that slowed the draining on the whole 2nd bathroom. One of the burners on our oven broke, and now the microwave is randomly inputting the autocook button like it's haunted, about to put in a work order. Of course you can hear the other roommates pretty easily, but the apartments above and below us are usually pretty quite, except the doors. Some problems with our front and back door too, but I fixed em with a screw driver xD. Overall. I really like this place. I just wish the appliances were a little better.
Beautiful place to live for a good price compared to anywhere else in the area.|Recommended: YesIt's a nice place to live with lots of amenities and is in a good location. Staff is pretty friendly and helpful.
Great place to live|Recommended: YesIt's quiet during the summer for the most part. Lots of parking available. Great place to live
It's well kept and nice.|Recommended: YesIt's a very cute, friendly, and social place to live. The apartments are well kept and if there are issues, the staff are quick to respond to them.
I thought the property is well managed and put together. For the first couple years of college, it is a great place to live|Recommended: YesI think the property is great if you are just starting out in your first two years of college. The staff are great and they real try to get to know you. I enjoyed my time that spent living here.
Pretty good student dorms|Recommended: YesA good place to live if you don't mind the noise.
The apartments are really nice
|Recommended: Yes
I love it, it is definitely worth staying here
We are so happy to hear that you love living here and are part of our Bengal Community!
Ranking review|Recommended: YesI had an ok time at Bengal Creek, my roommates were not the best but you know when you live with 5 other dudes then what can you expect. will not be returning because im living off campus now. thank you for the experience.
The staff
|Recommended: Yes
The higher up staff are wonderful. They work hard to make things work. I've enjoyed my previous years overall and am happy I'm staying here once again.
Thank you, Thank you! We really do appreciate your sweet words and being able to have you here at Bengal Creek. We are excited to hear you are staying.
Great place to live. Safe clean community|Recommended: YesI would recommend living here. Perfect for college students attending ISU
Overall, good first apartments|Recommended: YesIt's a good apartment to start off moving out of home. The walls are thin and everything can be heard. They're also so thin that it gets super cold in the back bedrooms in the winter. I love the fact that they're so affordable and each person gets their own rooms though
Pretty good|Recommended: YesI've lived at Bengal Creek for almost 2 years. I like that I get my own room the most. The staff is always really helpful most of the time depending on the CA. I wish that they would uphold their policy of no alcohol in apartments better. The walls are kind of thin and you can hear a lot of things. Overall it's really not a bad place to live. There are a few things I wish were different but I'm only going to be here temporarily until I'm finished with school.
The views and opinions expressed herein are solely those of the original authors and other contributors. These views do not reflect the views of "Bengal Creek Ridge Student Housing", its owners, managers, agents, employees or content providers. No representation or warranty, express or implied, is made or given by "Bengal Creek Ridge Student Housing", its owners, managers, agents, employees or content providers regarding safety, accuracy, completeness or suitability of the information or material expressed herein for any particular purpose